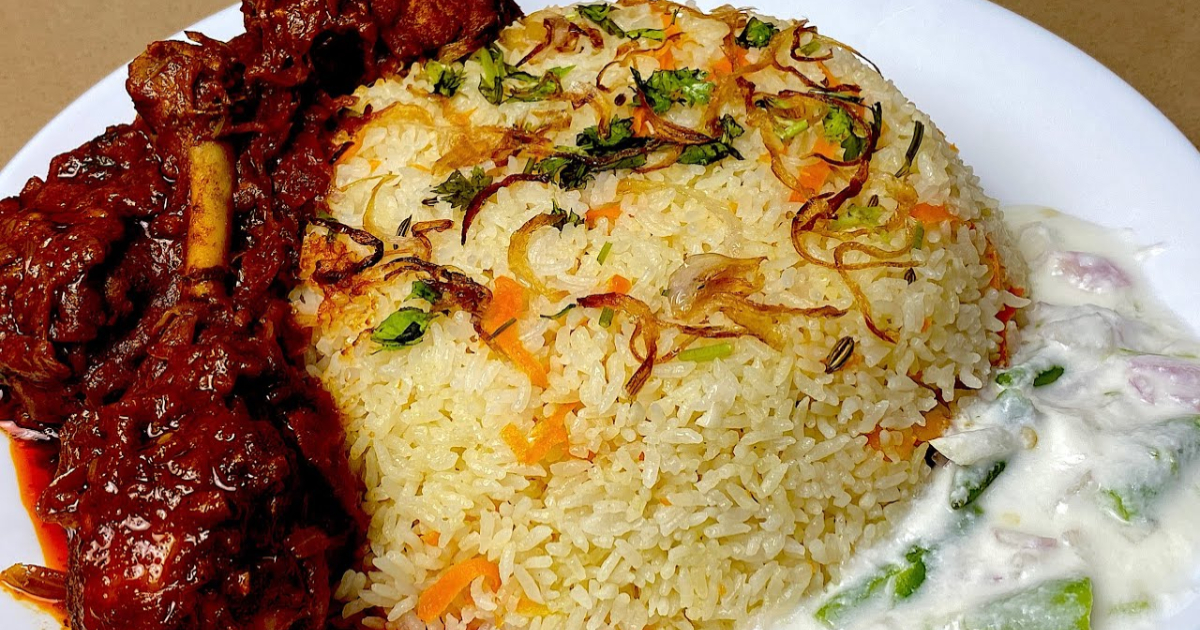 Auto DraftHave you eaten the delicious Manjali Biryani? Special Manjali Chicken briyani recipe.!!

Manjali Biryani is a famous authentic Kerala-style biryani in Manjali. Instead of dum, simply cook the rice and masala separately and serve them together in this biryani. White biryani is served with Spicy Chicken sauce and onion raita in the Manjali biryani recipe. Manjali Biryani combines two primary dishes: white delectable biryani and spicy chicken curry.
FOR CHICKEN MASALA: chicken – 1kg chilli powder -1 tbsp Turmeric powder -1/2 tsp Lime juice -1/2 tbsp salt oil -2 tbsp water -3/4 cup oil -4-5 tbsp Curry leaves onion – 3 tomatoes -2 ginger garlic paste -1&1/2 tbsp green chilli -1 salt Coriander powder -2&1/2 tbsp Turmeric powder -1/2 tsp chilli powder -1/2 tbsp water -3/4 cup Garam Masala powder -1&1/2 tsp Lime juice -1/2 tbsp Coriander leaves -1/4 cup ghee -2 tsp FOR RICE: jeerakasala /kayama rice -3 cups ghee -4 tbsp oil -4 tbsp onion -1 Cinnamon -2 cloves -4-5 Cardamom -3 star anise -2 fennel seeds -1 tsp Chopped garlic -1/2 tbsp water -4&1/2 cups salt carrot -1
Step-by-Step Details for Making Manjali Biriyani: Chicken curry: First, place 1kg of washed chicken in a mixing bowl and add chilli powder, salt, and 1 tsp turmeric powder, along with half tsp lemon juice, slowly combined well. If the chicken is dry, add 2 tsp of water and mix again. This marination must be allowed to rest for 30 minutes. After 30 minutes Heat up some oil in a Kadai. Then add the marinated chicken. Slowly cook it and add 3⁄4 cup water, then cook for 10 minutes. After 10 minutes, the chicken is thoroughly cooked, and the remaining masala water in the Kadai can be saved for further use. Again add 4-5 tsp Oil in Kadai with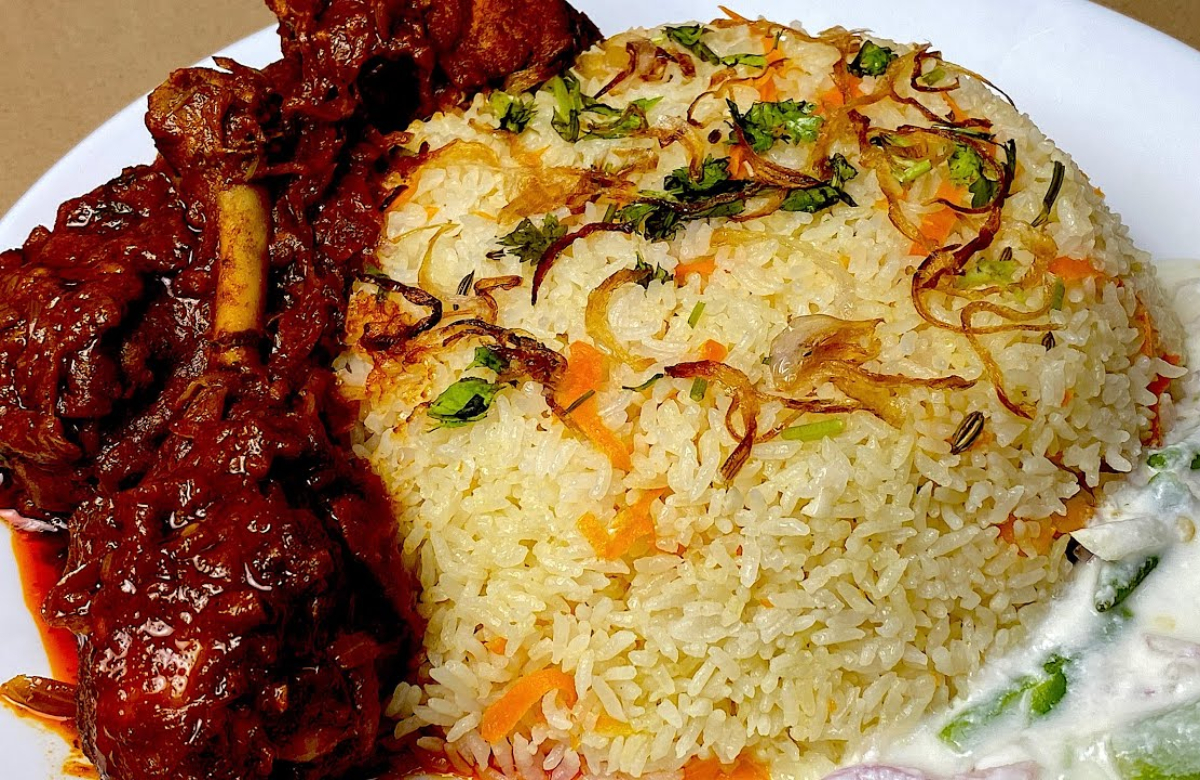 cooked chicken. Now that the chicken has been roasted on both sides, serve it on plates. In a Kadai with excess oil, add some curry leaves and three sliced onions; the onion colour will change. After that, add 2 tomatoes, 1 ½ teaspoon ginger garlic, 1 green chilli, and salt to taste, and cook for 5-6 minutes on low heat. Now that the pan is open, add 2 ½ teaspoon coriander powder, ½ teaspoon turmeric powder, and finally ¾ cup water to the separated gravy. Finally, combine the fried chicken with 2 ½ tsp Gram masala, coriander leaves, lemon juice, and 2 tsp Ghee. The delicious authentic chicken curry or chicken gravy is ready.
Biryani making: Soak½ kg Jeeraga samba rice for 30 minutes. Heat the three tablespoons of oil and ghee in a thick-bottomed pot. Add 150gms onion to the oil and ghee mixture; once the onion becomes brown, remove it from the pan and layer in the biryani. In a hot pan, combine the following ingredients in the following proportions: 1 cinnamon stick, 5 cloves, 4 cardamom sticks, 2-star anise sticks, 1 teaspoon fennel seeds, ½ teaspoon chopped garlic, and salt to taste. Then add 3 ½ cup water and seal it. Now that the spicy water has boiled, pour it. Soak the rice, mix it, and cook it for 2-3 minutes on high heat. Allow simmering for 5-6 minutes on low heat. Finally, in a bowl, top-fried onions and rice with chicken curry. credit : Kannur kitchen